Enugu/MTN ICT and Business Skills Training
In partnership with MTN Foundation, Meta, Microsoft and Capitis Global Ventures Ltd, Enugu SME is proud to introduce the Enugu/MTN ICT and Business Skills Training
Obtain Digital Skills
to Increase Your Profit
MTN ICT and Business Skills Training is a Youth Development initiative aimed at equipping young Enugu entrepreneurs between 18 and 35 years with tech enabled skills to keep their small businesses relevant and competitive. The training will be delivered through a 5-week online programme which includes Mosterclasses from key industry experts.

Microsoft – Will trian participants on "Entrepreneurship in the Digital Age, ICT for Business Success" and their new Generative A/ skills. Their training will last for 2 weeks and it would be delivered through a blended learning approach: self-paced (participants will study content shared by the facilitators) and Instructor led sessions (a facilitator will Train them online for ghoul hour 30 mins to 2 hours. Microsolt would he insiructor lad sessions every day for the duration of their 2 weeks training.

Meta – Will train participants on "Skills to Build Brands and Grow Businesses Online" through their Met Boost Small Business Studios.
Enugu/MTN ICT and Business Skills Training is intended to go on for Five(5) weeks after which only 300 outstanding beneficiaries will be supported with an equipment grants.
Through this, skills are learnt, jobs are created, the economy is boosted and the state gains more traction.


Eligibility criteria:


Age: Nigerian male or female 18 – 35 years old.
Business: Own and manage a small business that has been in operation for no
longer than 2 years.
Location: Own and manage a small business located in Enugu state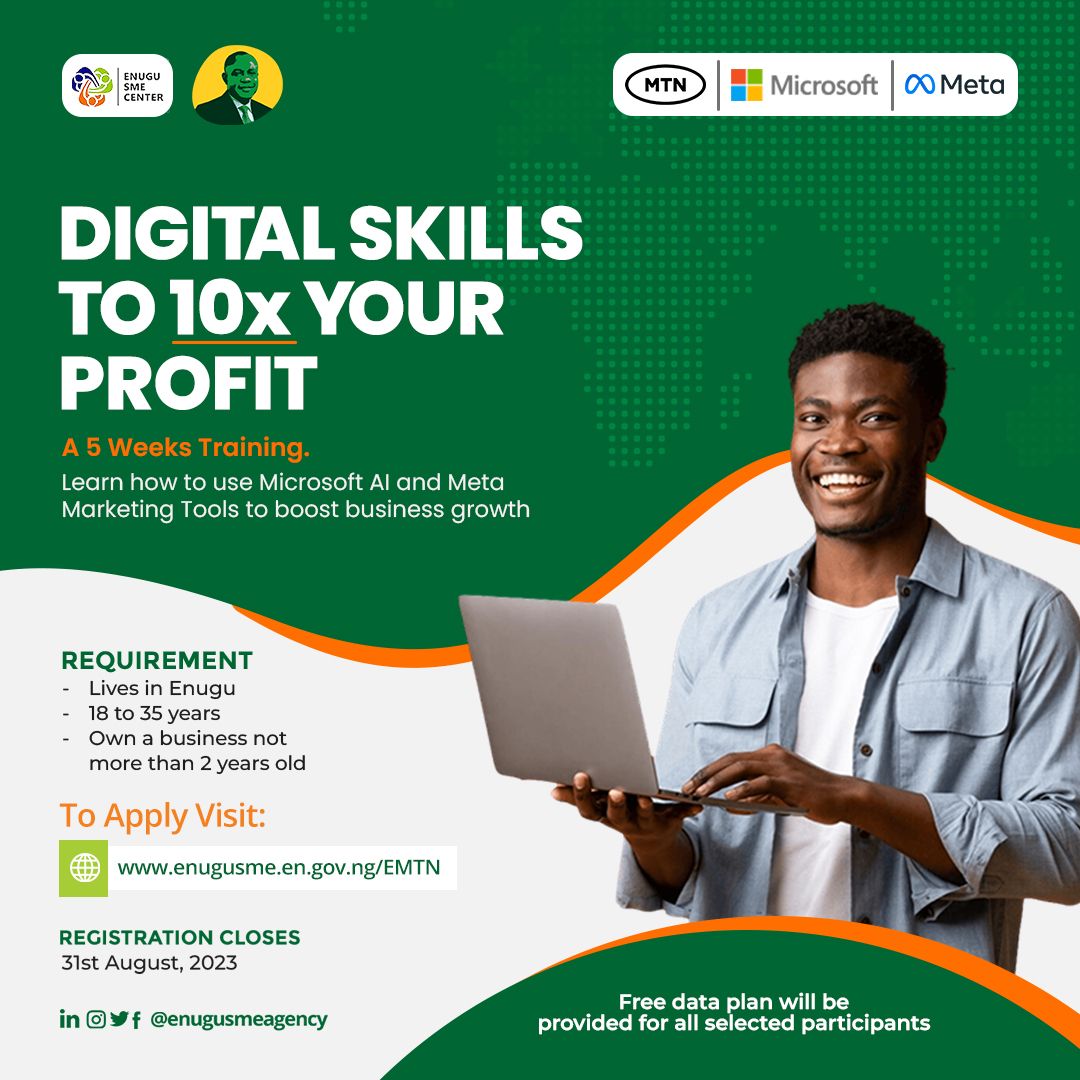 ENUGU SME DATA ANALYTICS TRAINING PROGRAM