The scale of corporate deals between privately held businesses and their investors in Nigeria's oil and gas sector is at the lowest ebb in five years, as transactions hit a low of $123 billion in 2020, a sharp decline compared to a record high of $301 billion recorded in 2018.
READ ALSO: Why investors flock to Ikoyi, V.I despite challenges…
This is troubling because oil and gas sector deals such as mergers, acquisitions, asset sales, debt financing, among others, drive investments, improve infrastructure, technical expertise, and grow the economy, thus improving living standards.
According to data from IHS Markit, a London–based energy information resource, Nigeria recorded 82 oil and gas deals last year worth $123 billion, a 69 percent decrease compared to 138 deals valued at $208 billion in 2019.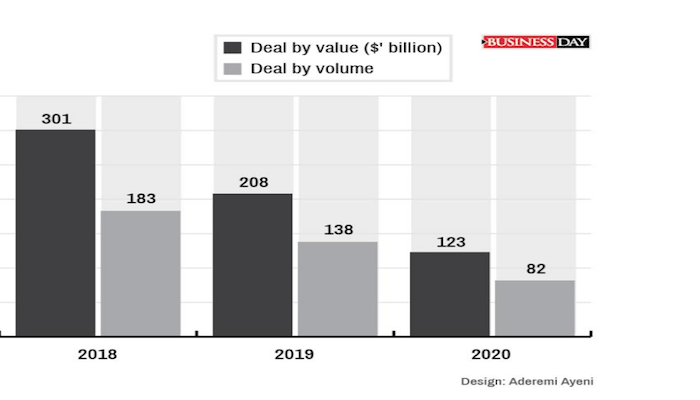 The data also show that 2018 was Nigeria's best performing year in the last six years with a total deal volume of 183 deals valued at $301 billion. This is lower when compared to $182 billion, $201 billion, and $196 billion recorded in 2017, 2016, and 2015, respectively.
A further breakdown of 2020 data reveals that the upstream sector accounted for about 45 percent of all deals recorded followed by the midstream sector with 26 percent, while the downstream sector and oil field service accounted for 24 percent and 5 percent, respectively.
Although investors in Nigeria's energy sector are not immune to the economic effect of coronavirus and the impact of lower oil prices, which made acquisition financing much harder last year compared to previous years, however, experts say their fortunes are made worse by a regressive fiscal regime and increasing risk profile.
"Price volatility, tough fiscal regime, rough business environment, and lack of capacity are some of the biggest challenges facing Nigeria's oil and gas deals in 2020," Joe Nwakwue, chairman, Society of Petroleum Engineers (SPE) said.
In 2019 deals, IHS Markit showed the upstream sector was also responsible for the lion share of about 52 percent of total deals followed closely by the midstream sector accounting for about 40 percent, while oil field service and downstream sector account for the remaining share of 4 percent each.
"Nigeria needs to put the right fiscal regime that will make projects more valuable in the midstream and downstream sector which would attract the right kind investment," Nwakwue said.
Elias & Co, a business law firm with specialty in mergers and acquisitions, said transactions in the energy sector had been less busy lately compared to six years ago.
"It is far from being inactive," analysts at Elias & Co said in a note.
Mergers and acquisitions in Nigeria's oil and gas sector have slowed in recent years after an initial surge two years ago when some indigenous players, buoyed by the Federal Government's initiatives, took advantage of some divestment opportunities by international oil companies operating in the country.