In a bid to further cushion the effect of COVID-19 and provide jobs in the country, the Osun State Government and Bank of Industry have trained over 2,000 youths on entrepreneurship.
READ ALSO: Inflation Expected to Spike Further
The programme is tagged: the Post COVID-19 Economic Strategy Training.
The Governor of Osun State, Adegboyega Oyetola, who presented certificates to the first batch of the participants of the programme at the Multi-purpose Hall, Local Government Service Commission, Abere, Osogbo, acknowledged the support of the Bank of Industry in providing jobs for the youths.
According to the Governor, the Skills Upgrade and Entrepreneurship Training Programme was designed to generate 15,000 direct and indirect sustainable job opportunities annually.
He noted that the programme was designed to provide participants who were adversely affected by the COVID-19 pandemic with skills upgrade training to make them relevant in the changing economic landscape. The aftermath of the COVID-19 pandemic.
"Under the Skills Upgrade Training Programme, we were able to re-focus, re-engineer and expand the scope, knowledge and relevance of artisans and people who lost their jobs to make them relevant under the new normal orchestrated by COVID-19."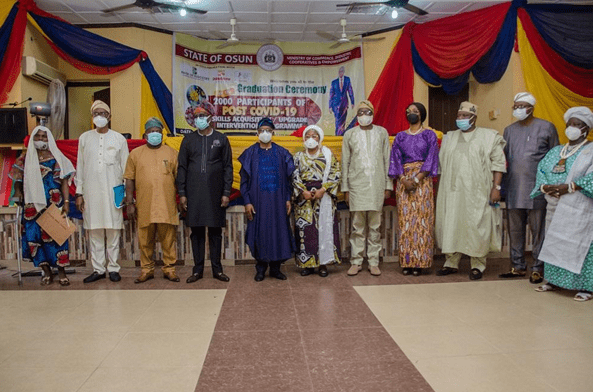 The Executive Director, Micro Enterprise, Bank of Industry, Mrs Toyin Adeniji, commended the administration of Governor Oyetola for building a virile and healthy economy for the Osun State.
Mrs Adeniji, while expressing satisfaction with the timely and prompt cooperation and support received from the government, promised BOI's continued support to the Osun state in its relentless efforts to grow her economy.